rexx Seminar Management.
Further education and training sessions are an important investment in your most valuable asset – your employee. Easily manage the coordination of all measures.
rexx Seminar Management provides you with an up-to-date overview of all advanced training sessions of your specialist and management staff, including the costs and the dates. Moreover, the software takes over time-intensive administrative tasks for you, allowing you to concentrate on the most important thing – the content that can benefit your specialist and management staff.
Just one click
With rexx Seminar Management, plan all your company's education courses and advanced training and training sessions, easily and conveniently. You will always have a good overview of all planned events, their status and the number of participants in the event list. With just one click, you can publish an event in the employee portal or change to the digital event file.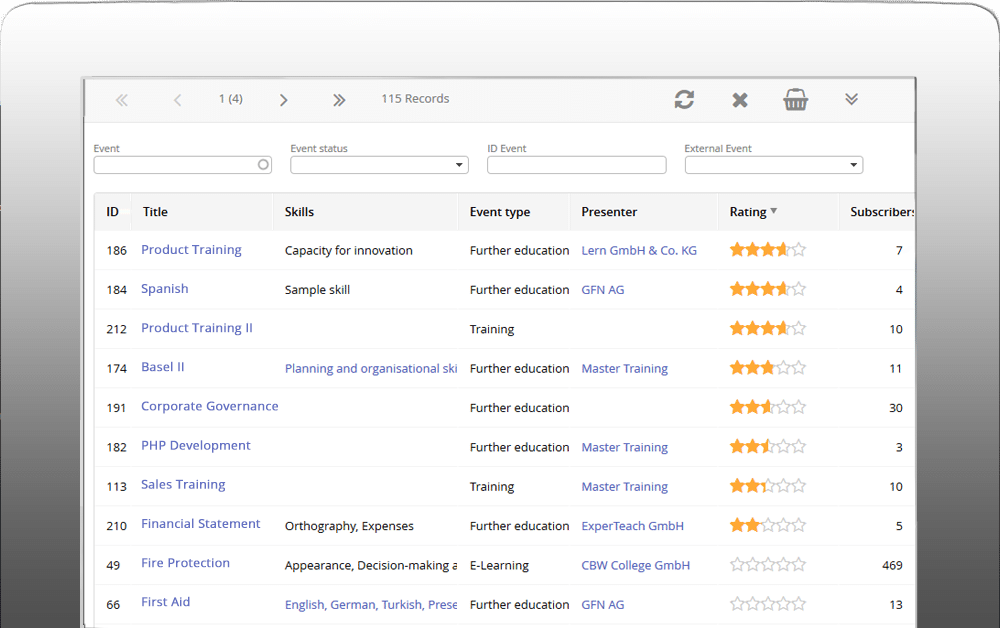 Defined workflow
An employee can make an application to participate in a training session through the self-service portal at any time. The required approval can be obtained through the defined workflow process. At the same time, the employee can automatically monitor their allocated training budget.
Manage all your seminar providers and references directly within the software. You can easily add your employees as internal speakers as well as external speakers.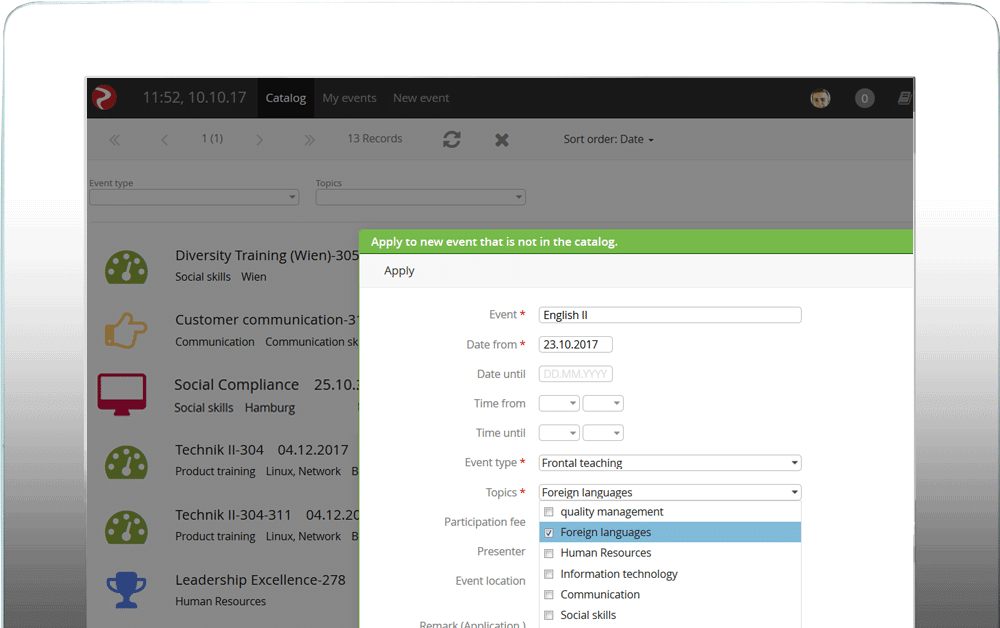 Network administration
Easily manage all relevant information in the digital events file, the heart of the software. You can enter details of the event and then publish it in the employee portal for independent booking by self-service. All participating employees have access to the same information at the same time and without any further effort.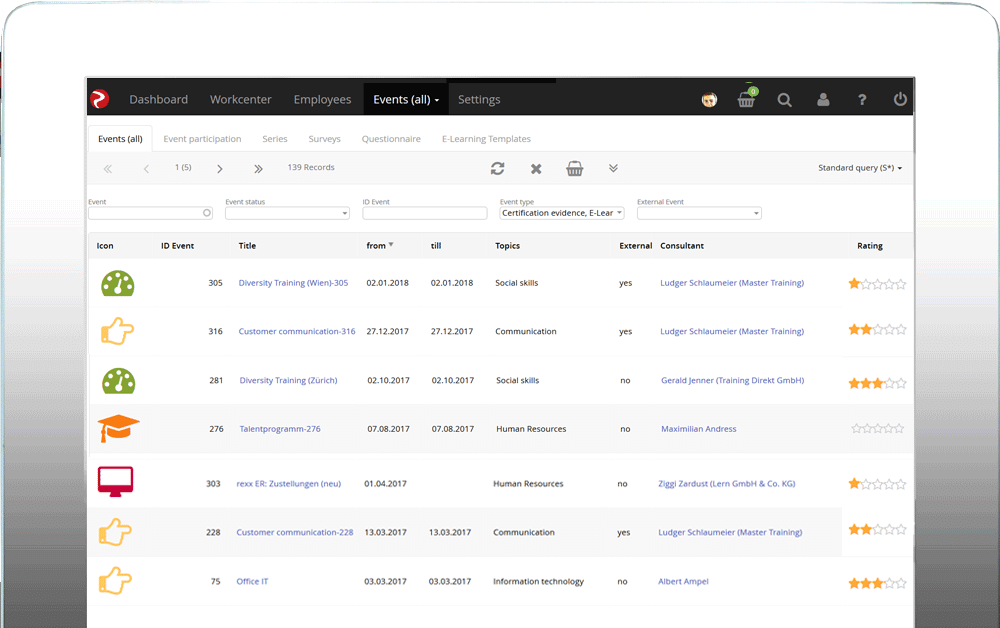 You are able to directly identify which employees already plan to participate or you can manually add other employees to the event. When somebody new is invited or someone confirms their participation, you can change the status of this person in the event list with just one click of the mouse.
rexx Management by Objectives.
Fair and performance-focused target objectives motivate your employees and measurably increase your company success.
rexx Management by Objectives supports you in determining individual employee objectives and workflow-controlled performance appraisals throughout the entire company. The software makes it possible for you to define sophisticated measurement criteria and milestones, and to monitor them on a regular basis – allowing you to support the successful implementation of company strategies.
rexx Skills
Thanks to the search & list engine, you have an overview at all times of the progress made by your employee in achieving his or her agreed objectives. The performance appraisal can be combined with skills management through rexx Skills, making it possible to steer the development of your employee, e.g., with targeted training sessions or by changing or expanding the agreed measures – especially in cases where the employee is in danger of not meeting an objective.

Setting objectives
Deadlines and appointments can be entered in rexx Management by Objectives. Define which management staff and employee are to participate in an individual review. Agree on a feedback discussion or consultation in which, for example, advanced training measures can be discussed.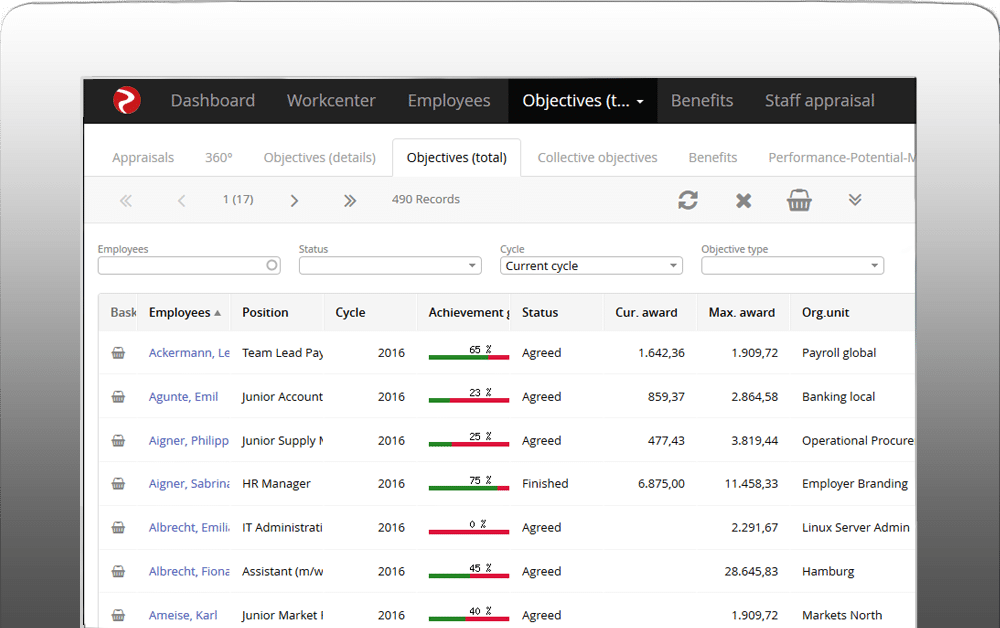 Flexible rating matrix
Set target objectives by weighting the individual points and linking them with the flexible rating matrix. An intelligent set of rules provides you with support in calculating ratings. Ratings can be directly associated with the digitally documented employee appraisal.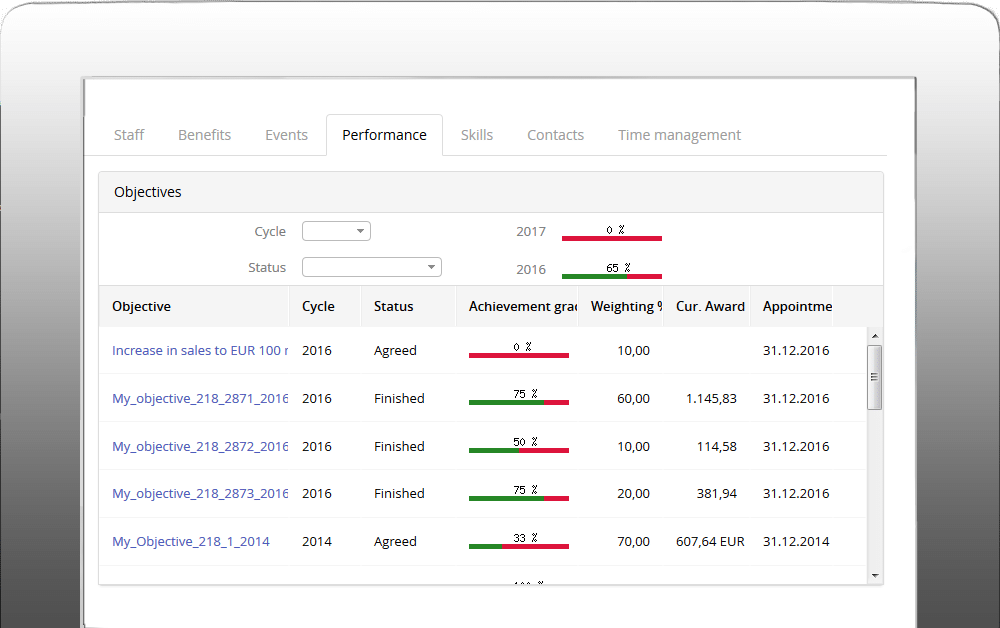 Monitor development
Have the target objectives of the employee and the superiors assessed and documented for the following year. A clear analysis function makes it possible for you to compare and analyse agreements on objectives at any point in time. This thus allows you to determine the up-and-down trends and the development of individual employees – over a longer period of time too.