Displaying job adverts on various channels is one of many daily tasks of human resources, but it is also tedious and time-consuming. The job advert has to be created, designed and published on each individual portal. Often, it's blind luck as to which job portal actually attracts the best applicants. This costs time and money with respect to the actual task of finding the right candidate.
rexx Application Management has now integrated the new Multiposting function, which is free for you to use. This means that you can now easily create, measure and manage job adverts. This is another step towards designing all rexx Suite processes in a way that is even more digital and, above all, efficient. All administrative processes for displaying and billing for job adverts can therefore be completely managed.
Here's how it works:
Over 450 recruitment channels are stored in rexx Multiposting, therefore giving you the opportunity to tap into the full potential of digital sourcing channels. An intelligent suggestion system identifies the best job boards for each advert for you. Everything is clearly brought together in a central interface and can be easily booked and controlled directly in rexx at the best price.
Publish on several platforms at the click of a button
All of the popular job markets are represented, as well as niche portals, social media, Google Ads and Programmatic. SEO-optimised ads mean that job adverts also take privileged positions on Google for Jobs. It is now possible to publish on several platforms at the click of a button.
Support is also available for organisation and planning when it comes to recruitment budgets, as this can be used and managed in an optimal way with rexx Multiposting.
Daily click statistics with Analytics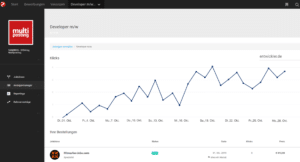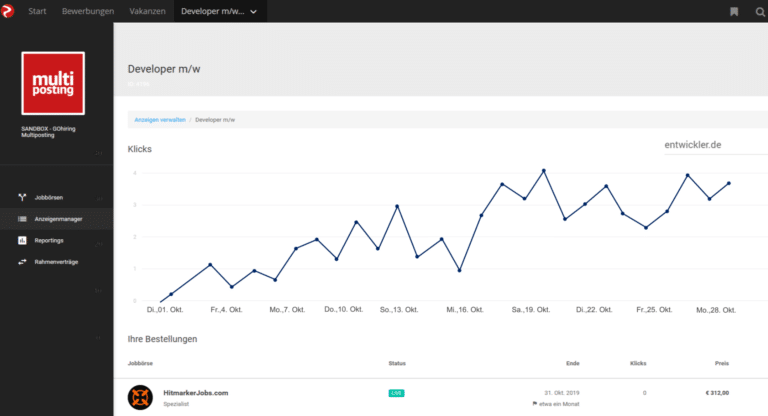 The latest tracking technology, with the assistance of Analytics, allows the performance of current adverts to be displayed. Human resources now have an overview and can measure which recruitment channels work most efficiently for their needs and deliver the best results.
All click statistics are updated on a daily basis, making it easy to monitor them and take countermeasures early on. Human resources can easily recognise which job boards are most suitable for the respective requirements, reducing time-to-hire.
Existing contingents and agency contracts can be easily transferred into rexx Multiposting, including all optional services, meaning the usual service providers can be booked at the usual prices. All existing interfaces or XML feeds can still be operated in parallel.