Ongoing improvement of performance
Performance and development objectives can be specified easily and precisely.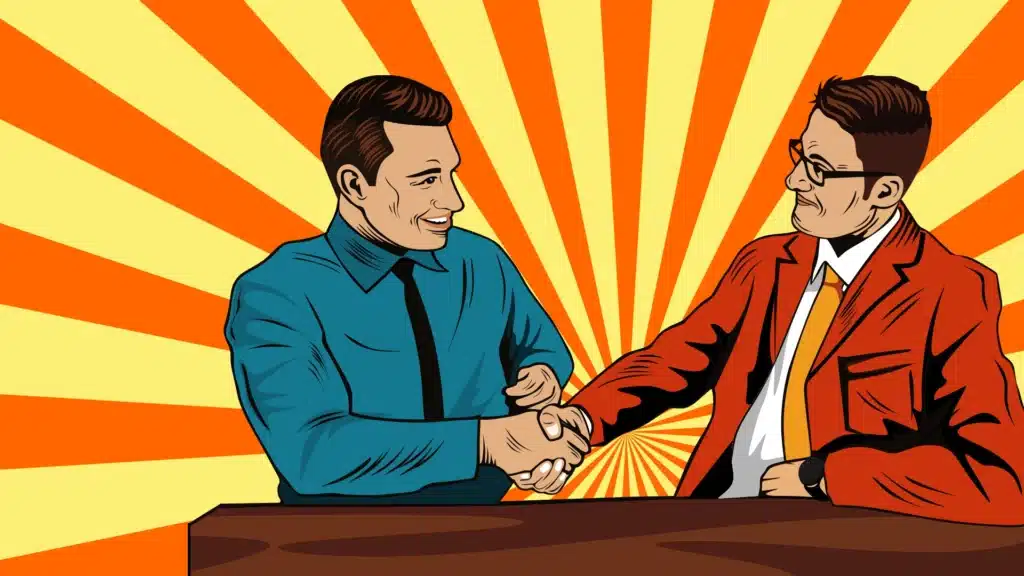 Ongoing improvement of performance
Performance and development objectives can be specified easily and precisely.
Employee Performance Appraisals
Sustainable leadership success depends to a large extent on the quality of employee communication in the company. Staff appraisals are the central management tool and the employer's direct line to its employees.
As a valuable instrument for talent management, staff appraisal also provide the basis for the successful implementation of the corporate strategy, because well-prepared and transparent staff appraisals promote the motivation, satisfaction and loyalty of your employees.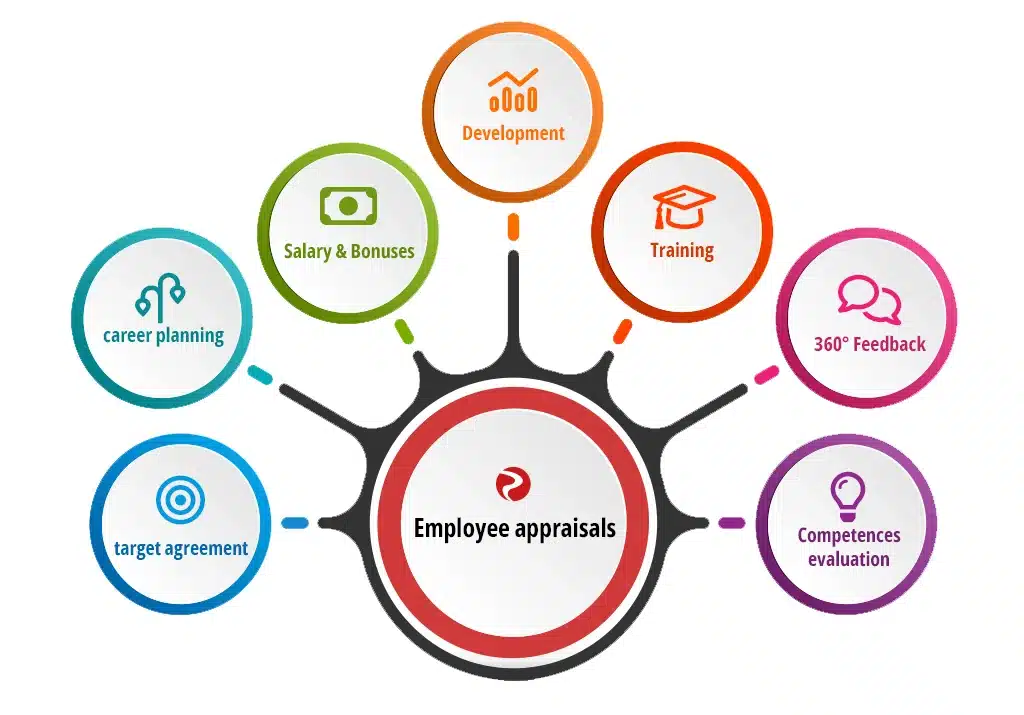 With the rexx software for staff appraisals, you use a powerful digital tool to optimise this feedback process.
The employee performance appraisal module supports you along the entire process chain of staff appraisals and automatically takes over a large part of the administrative work. Keep an up-to-date overview of upcoming appointments, target agreements or reviews at all times. The managers and employees involved are automatically reminded of these events by the system.
At the same time, the rexx suite offers you the option of integrating annual appraisals with other HR processes: It can also be connected to the applicant management software, the training and e-learning module or other components of the rexx Suite via digital interfaces.
Software for staff appraisals
The software for staff appraisals takes over support functions along the entire process chain of feedback and staff appraisals:
Administrative processes – for example, appointment management – are completely automated. Appointment suggestions, appointment reminders and content updates of the interview agenda are transmitted digitally.
All information relevant to interview preparation is available at the click of a mouse. The results of the feedback meeting are also stored in the system. This includes, for example, target agreements, performance appraisals, information on personnel development measures as well as pay increases and bonuses.
Questionnaires for different feedback structures, including 360-degree feedback and the interview guide, can be created directly in the software via templates.
Optionally, you can prepare the results of your appraisal interviews graphically. In order to create development charts for individual employees, specific employee groups, departments or areas, your freely configurable selections are available.
For comprehensive follow-up, the data from the appraisal interview automatically flows into other software modules, such as performance management, skill management or the digital training management of your company. This makes it possible to measure performance and achievement, track individual goal attainment, or evaluate the success of training measures from different perspectives.
The self-assessment and external assessment questionnaires, which can be freely designed, are the basis for efficient staff appraisals. The assessments provide a valuable basis for a discussion of personal views up to 360 degree feedback. Structure and scheme for objectives, assessment criteria and competences are freely definable.
The annual reviews also support attended and planned trainings, performance-potential matrix or the agreement of new salaries.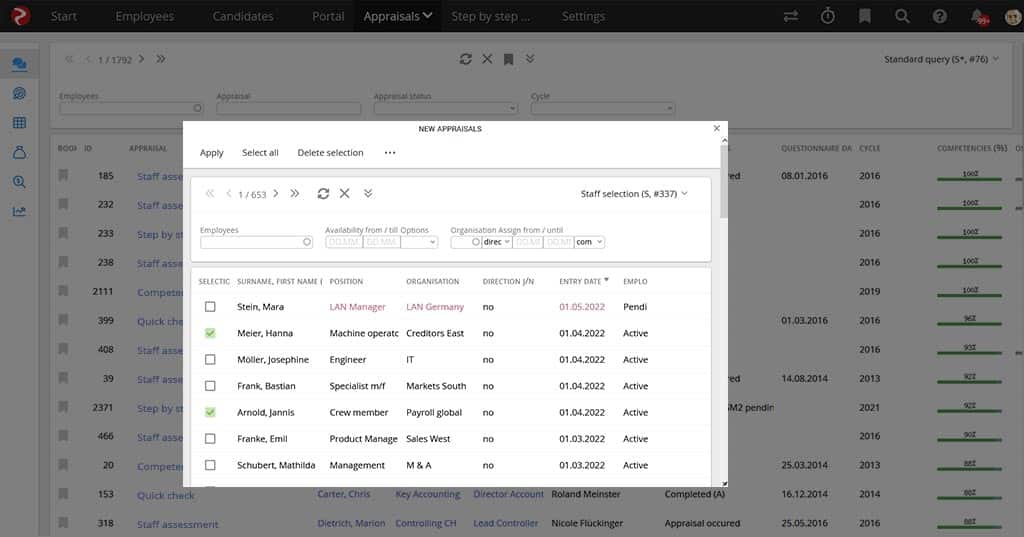 After conducting the appraisal interview, the software helps you to document results, target agreements or planned further training quickly and easily. In addition to standardised contents, this documentation also offers the possibility of individual adjustments: Record agreed goals, planned seminars or information on employee qualifications as needed.
The results of staff appraisals can be conveniently displayed as diagrams. In addition, the software provides meaningful development charts individually for each employee or as a group evaluation across departments or freely compiled selections.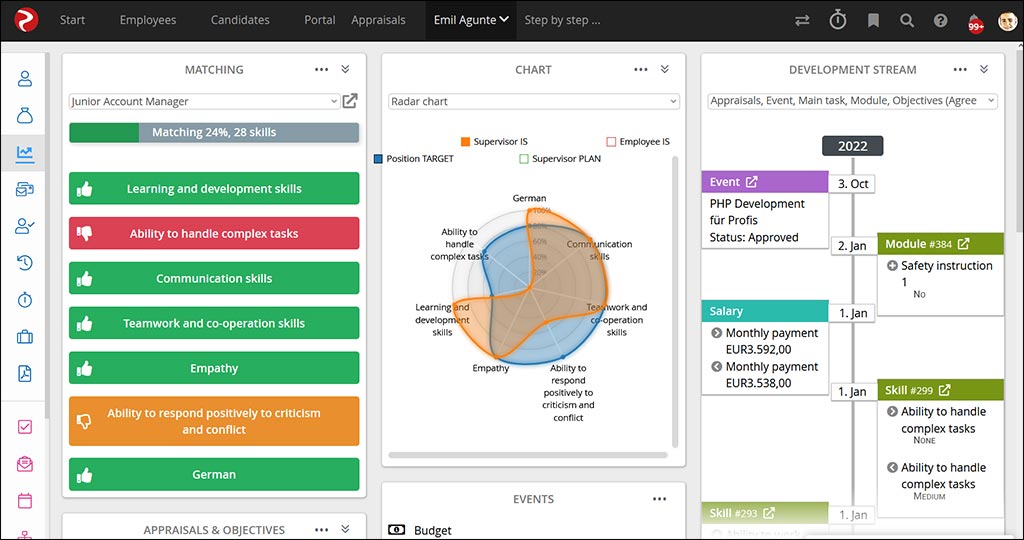 The protocol is also stored in the employee's digital file and is made available to the employee in the employee area – or self-service portal. The data automatically flows into other software modules and can then be called up centrally for follow-up work – whether for performance management, in the training module or in the area of skills and competence.
This integration makes it possible to gain an overview of the set objectives from many different perspectives. These can be monitored and adjusted as necessary.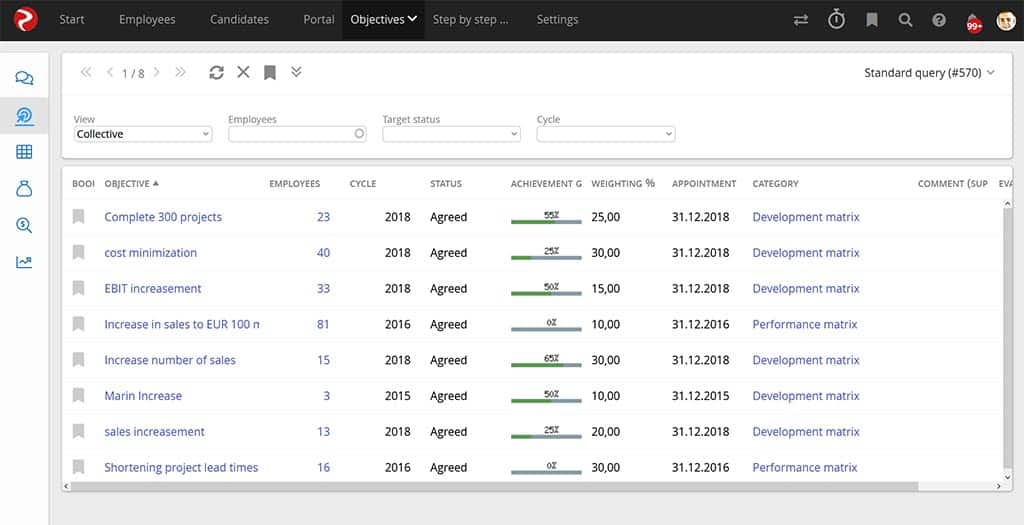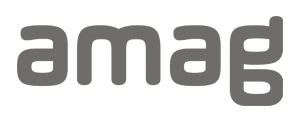 "The challenge lies in the very complex structure of our company. It's really all about achieving greater efficiency in our human resources work. We used to be simply drowning in paper but we now have everything in rexx, which means that everyone has access to it"
Ms Jans, AMAG HR Development Manager.
Employee appraisals ensure lean workflows & time savings in HR processes. In this way, you can prepare effectively for discussions with your employees and conduct them successfully.