rexx Suite - choose the all-in-one solution
The rexx Suite is the best of both worlds of the rexx universe. It contains the two important areas of application management and personnel management and represents the all-in-one solution of HR software. Thanks to its modular structure, the rexx Suite can be extended to include all required modules from the Talent Management area.
The support of our experts for the implementation includes the following contents:
Set-up of a pre-configured system
Introductory training
The implementation time of basic packages is max. 60 days, individual customizations and optional modules can extend the implementation.
REXX SUITE: EVERYTHING AT A GLANCE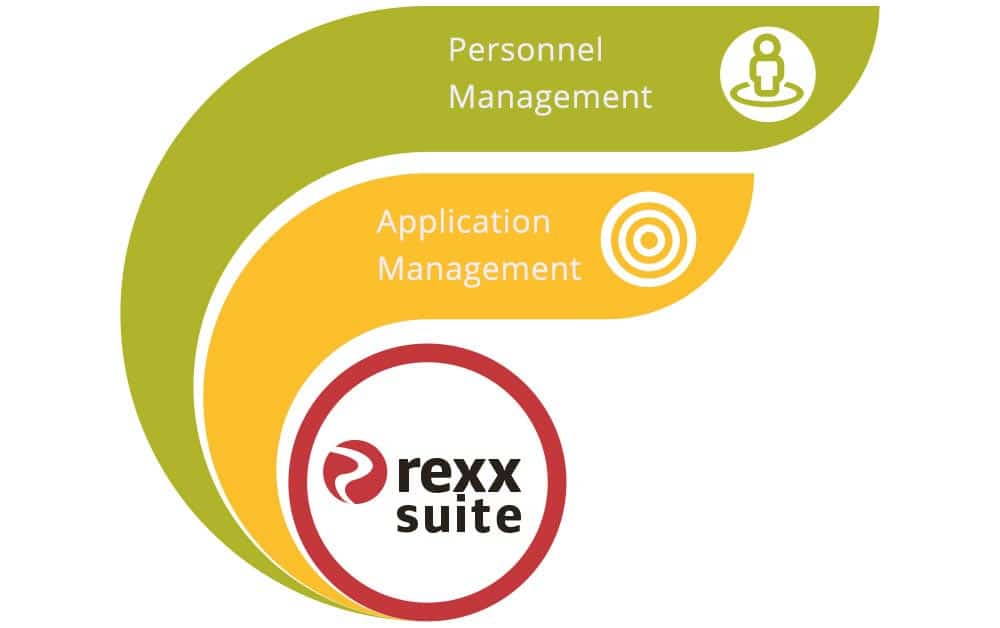 Application management + personnel management = rexx Suite
Recruit the right applicants with the rexx Suite – quickly and easily! The application management system as part of the rexx Suite ensures modern and convenient e-recruiting. With multiposting, SEO-optimized job ads, and connections to all important job portals, job offers reach a huge audience – and you reach the best candidates. With the help of easy-to-use analyses, successful recruiting channels can be identified and the recruiting process can be optimized with the help of data. In the dashboard, everything is visible at a glance and you keep track of all application processes. Even hiring the right applicant for the employee is done with just one click using the digital applicant file – all DGPR-compliant. Over 2,000 customers with approximately four million application processes per year are relying on rexx systems – worldwide. Be part of the success and rely on one of the leading providers of recruiting software!
A large part of the administrative effort in HR is required to prepare data and make it available to third parties such as controlling or management. With our HR software, automated processes and queries can be created and queried at any time by authorized groups in "self-service" via their own access. This not only saves time in the HR department, but also increases the flexibility and efficiency of the entire company. Statistics and key figures can be created in the data warehouse and converted into graphics or diagrams.

ADVANTAGES of the rexx suite immediately:
HR suite as a "best-of-breed" solution: a leader in innovative development for over 20 years.
"Best Practice" in HR and project processes: well over 2,000 successfully implemented projects
proven integration of ERP, time recording and payroll: standard interfaces to other systems
complete transparency of costs: release change-free and self-administration
ease of use: Leading rights and role management including own workflows

Curious? Here you can find free live webinars on the rexx suite, application management or talent management. Simply register now without any obligation and get to know rexx systems in 30 minutes including a short Q&A session. Or look at our product videos.