Austria's leading tourism group, the Verkehrsbüro Group, is thrilled with the rexx systems talent management software. Chief Executive Officer, Martin Winkler explains how rexx systems combines the digital world with personal service – digitalizing and optimizing applicant management, personnel development and personnel management.
Successfully leading tourism in Austria for over 100 years and now employing over 3000 people, the Verkehrsbüro Group offers a wide range of services in leisure tourism, the hotel industry and business tourism, all of which are oriented towards current customer requirements, from private customers, companies and public institutions.
Watch the video testimony from the Verkehrsbüro Group to understand why significant organizations consider rexx systems as the ideal partner to help them optimize their HR development for continued success in the digital age.
Group companies includes the leading Austrian hotel group 'Austria Trend Hotels' (with 27 4-star and 5-star hotels), as well as a joint venture with the Motel One Group with 6 hotels in Vienna and Salzburg. With 'Palais Events', historic locations including the Palais Ferstel, Palais Daun-Kinsky, the Wiener Börsensäle and the Café Central are booked for conference and gala events. 108 'Ruefa' travel agencies across Austria make the Verkehrsbüro Group the market leader in leisure tourism, whilst 'Eurotours' and 'Jumbo' complete the set for leisure travel.
Business travel with worldwide service is catered for by group companies 'Verkehrsbüro Business Travel' and 'AX Travel', whilst around 40 congresses and corporate events are organised annually by 'Austropa Interconvention'.
Committed to developing successful career for their personnel, and looking to digitalize their HR processes, the Verkehrsbüro Group embarked upon a thorough evaluation of the most well known solutions. Based on their overall experience with the rexx team during the evaluation process "Backed by good references of companies with similar structures and with a multitude of applications for professional HR management, it was an easy choice to decide for rexx systems" explains Yasmin Aziz-Trebesiner, Head of Personnel Development & Recruiting.
Read more about the connection between digital HR and personal Services at Verkehrsbüro Group: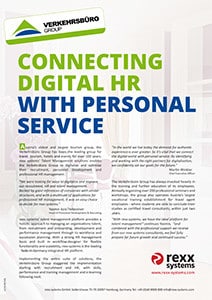 Talent Management Software for Verkehrsbüro Group