For the 25th time the most innovative German small and medium-sized companies were honoured in the TOP 100 competition. The awards ceremony was held on 29 June 2018 at the 5th German SME Summit in Ludwigsburg. rexx systems was recognised as one of the top innovators according to a scientific analysis carried out by Professor Dr. Nikolaus Franke. Based on 100 parameters, the Hamburg software provider was awarded the TOP 100 seal.
This seal is the only benchmark for innovation management in Germany. It has stood for innovation for 25 years and is also an indicator that a company has excellent prospects for the future. Besides Professor Dr. Nikolaus Franke the award was presented to rexx systems by Ranga Yogeshwar and compamedia. The event was presented by Tagesschau newsreader Linda Zervakis. The panel of judges was made up of Professor Dr. Dr. Ann-Kristin Achleitner, Professor Dr. Roland Berger, Ulrich Dietz, René R. Obermann, Lars Hinrichs, Thomas Sattelberger, Dr. Johannes Schmidt and many more.
Qualities of a TOP innovator
TOP 100 companies like rexx systems are distinguished by strong revenue growth and numerous new-to-market products and innovations. Besides above-average growth in revenues in the respective industry, stability and success, also creativity and courage for innovation are particular qualities that TOP 100 companies have in common. The Hamburg-based company, a provider of market-leading HR software solutions, primarily impressed with its internal atmosphere of innovation and its own innovation processes.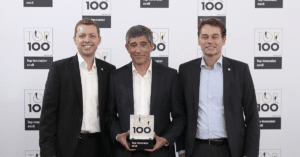 In order to achieve continued steady above-average growth one must always stay one step ahead of the competition. Pragmatic approaches and open doors in the office make it possible to actively participate in product development. According to the eulogy, with its extraordinary innovative capacity rexx systems, a medium-sized provider with 130 employees and branches in Hamburg, Vienna and Zurich, has been successful in asserting itself in the highly competitive market for talent management software. A developer team led by company founder and Managing Director Norbert Rautenberg produces around 4,000 updates each year alone and continually works on extensions and inventive process optimisations. This reflects the high level of confidence that the management has in the team's technical competence. But the employees also have the utmost confidence in their company, many of them benefiting from a lucrative participation programme.
"The recognition as one of the TOP 100 shows that we are on the mark in drawing our success and our technical and organisational development dynamics from innovative company and personnel management. We place great emphasis on team work with short decision-making paths. This ensures that the team's morale is always upbeat and allows the ideas to pour forth," says Stefan Daufenbach, Associate Director at rexx systems.