After being honoured last year as the Growth Champion of the Year 2018, rexx systems is now one of Germany's top SME employers. That is the result of a study carried out by FOCUS Business.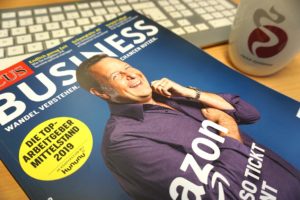 rexx systems gehört zu Deutschlands Top-Arbeitgeber Mittelstand 2019
In order to identify the top SME employers, FOCUS Business and the market research company, Media Market Insights, evaluated more than 750,000 company profiles with more than 3 million opinions of employers. Companies with between eleven and 500 employees were eligible for consideration. To make the final shortlist, they also had to meet other specific criteria – for example, score 3.5 out of 5 or better and have a minimum number of current employee ratings. Another criterion was that the company headquarters had to be located in Germany.
rexx systems ranked 817th out of the 2,800 most popular SME employers in Germany with 145.5 points.
We are very pleased to be among the top employers in Germany in the 2019 FOCUS ranking. The award affirms that we not only develop innovative, web-based software for talent management, human resources and recruiting, but are also an impressive employer. This helps us to recruit our own qualified and rapidly growing team to identify trends early and implement them innovatively. Our employees make a significant contribution to our success. They too deserve a 'heartfelt thank you' for their efforts," says Norbert Rautenberg, CEO of rexx systems.
Nowadays, companies need to be very creative to attract and retain qualified employees. A good working atmosphere, flexibility and employee participation offer huge advantages in the battle over experts. rexx systems offers excellent working conditions to its approximately 140 employees
The complete list of top SME employers was published on 28th November 2018 in a special issue of FOCUS Business. Would you like to work for one of the top employers? Then take a look at the rexx systems vacancies.