Heidelberger Druckmaschinen AG (Heidelberg) is the world's leading solution and service provider for advertising and packaging printing. Currently, over 11,500 highly qualified employees are committed to the success of around 200,000 customers worldwide. For more than 160 years the company has stood for quality and future viability, meaning long-standing tradition combined with the drive to help define future industry trends thanks to state-of-the-art technologies and innovative business ideas.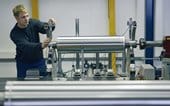 Heidelberg selected rexx Enterprise Recruiting (rexx ER) to identify and recruit the right talent during their restructuring program in 2012, and this strategic decision helped the company during the times of unstable economic uncertainty.
Similar values and strengths such as the fulfilling individual customer requirements, dedication to ongoing development of solutions, services and markets connect 'Heideldruck' as they are locally known, and rexx systems.
rexx ER makes it easy for interested specialists to find the right job vacancy and apply directly online. If no suitable vacancy exists, the rexx Jobalert function offers prospective applicants the opportunity to be informed directly by e-mail whenever a vacancy is published that they might be suitable for. Through its high level of flexibility and simple usability, rexx ER clearly stands out amongst other recruitment solutions. Companies like Heideldruck appreciate the intuitive graphical interface, the practical integration into the company network, and the deep level of visibility and control they have throughout the complete recruitment lifecycle.

"In addition to the Heidelberg branded job portal, which provides both look and feel of the brand, we also have a powerful applicant management system that makes our recruitment processes easier, and is very convenient for both applicants and in-house users. "
Andreas Fritz
Human Resources, Executive-Management & Policies – Heidelberger Druckmaschinen AG