Interfaces to all salary statements.
Linking the HR management system with the salary statement software simplifies processes and increases transparency within the company.
Benefits
rexx HR offers interfaces for all established payroll systems. Different salary types and payments are supported: monthly salaries, hourly wages, daily rates, bonuses, premiums and calculation formulas for annual payments. All information relevant to the subject of remuneration is presented in just one system.
Get a clear overview of every payment made to employees through the rexx Digital Personnel File – both individual payments as well as salary developments. Payment history can be clearly represented in a development chart. Extract reports from payroll accounting using the search & list engine, e.g., average wages, salary developments and total salary costs for a specific employee group.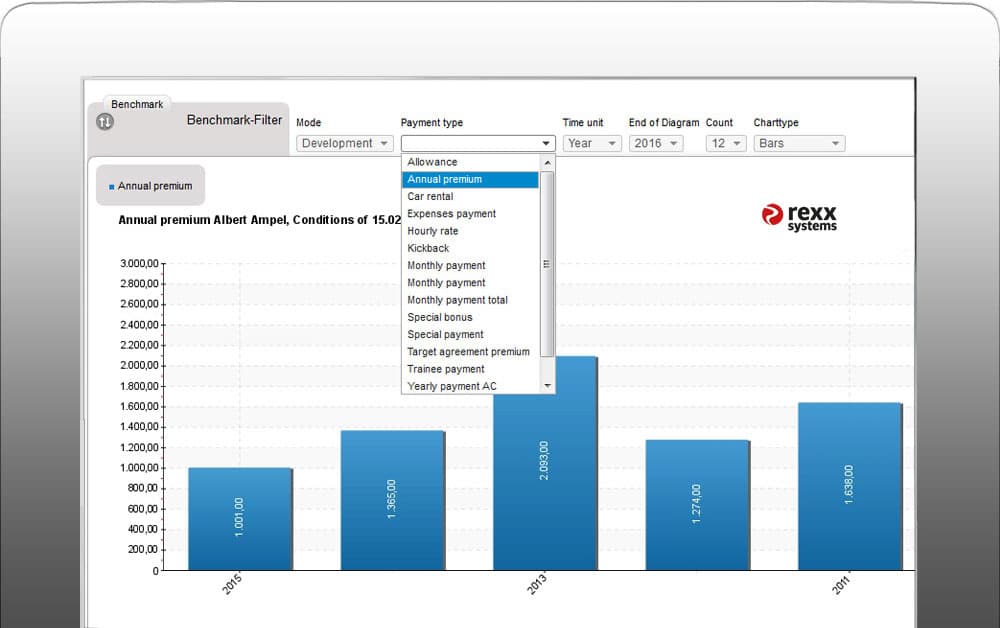 Dispense with the distribution of paper pay slips and instead make salary statements available for download by your employees in the portal.
The following payroll providers are supported as standard: DATEV, ADP, SAP, Exact, LOGA (P&I), Veda, Sage (dpw), BMD, Abacus… and many other payroll accounting software providers.
Day-to-day payroll accounting processes can be quickly and efficiently carried out through the modern and clearly laid-out user interface. Legal requirements pertaining to social insurance and tax are automatically accounted for in wage and salary statements. Special modules ensure optimal support for payroll accounting also in the especially complicated public service and construction sectors.
The payroll accounting providers supported by the rexx system are tested annually on behalf of the statutory health insurance system by the ITSG (statutory health insurance informational service centre). This certificate is the highest quality label awarded by the statutory health insurances. The annual approval ensures that payroll accounting is maintained at a consistent quality.