A user study on HR trends in 2019 indicates that the skills shortage is making digital transformation necessary. We provide an insight into the methods, challenges and trends in personnel management.
Digitisation in HR offers enormous advantages
Digitisation is on the rise and HR software is growing in importance as areas such as talent management and digital personnel files are of growing significance. Businesses that lag behind in the digital transformation are forfeiting their competitive advantages. Young applicants in particular, who are very digitally mobile, must also be addressed in that medium, otherwise the company will soon cease to be of interest as an employer. Moreover personnel management using Excel tables is highly time-consuming and does not offer added value, as no processes can be automated as a result. Matters are simpler where administrative and recurrent routine tasks can, after a modest implementation cost, be handled by the same software. This allows the HR staff more time for important matters such as recruiting or talent management – in other words, more time for productivity. Before implementing special (yet also easy to operate) HR software, businesses often state that at present they 'do everything using Excel and Outlook'. Is this efficient?
A study of HR trends provides interesting insights
A recent study on HR trends carried out by Capterra, a Gartner Digital Markets company surveyed 250 participants who work in personnel divisions. The results: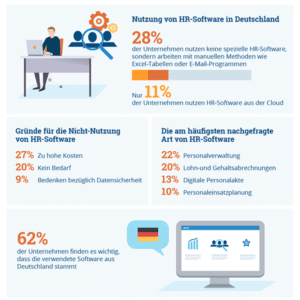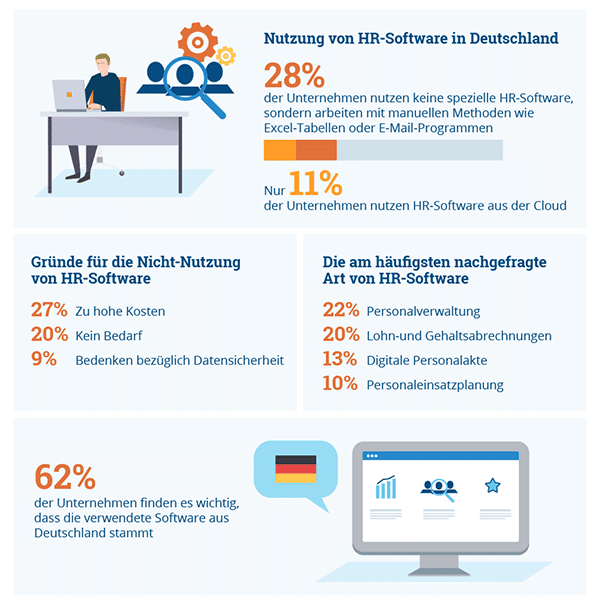 Just under 30% of the companies did not use any special software for personnel administration and use manual methods such as Excel tables, email or by hand. Yet here, software can provide support to the business by providing individually adapted and pre-defined processes. It is important to invest time into recruiting, as the success of the company ultimately rises or falls with the quality of the employees. Finding qualified employees is one of the largest challenges facing personnel divisions.
Up to 90% of primarily large companies with 100 employees or above use HR software. The property sector is very much in the lead here, followed by trade and the transport and logistics, agriculture and nutrition and manufacturing and production segments. There is thus no particular field in which HR software is used; on the contrary, a solution can be found for customers from any industry and of any size.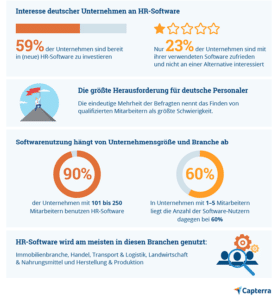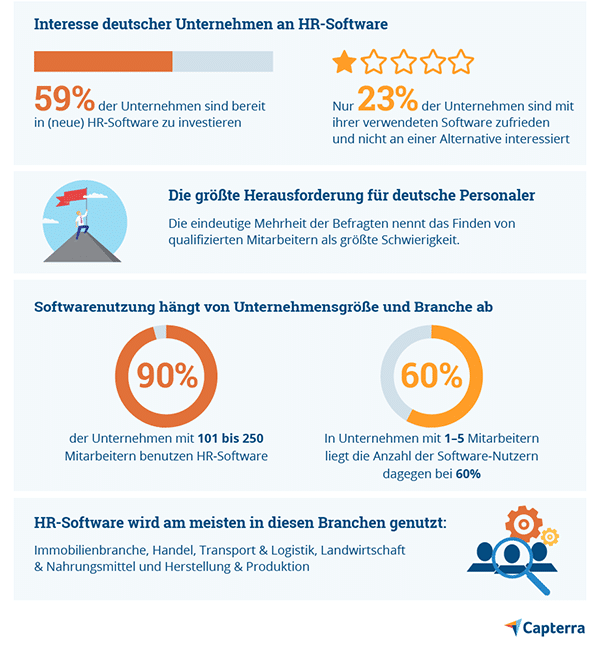 Some 27% of respondents gave fear of high costs as the primary reason for not using software. 20% said that for their objectives and purposes they did not require software, as the internal company processes were functioning well. Yet the advantage that the use of HR software offers, i.e. in terms of time-saving, is often misunderstood from the outside
For 62% of businesses it is important that the software is from Germany. This is particularly important when it comes to employment law, which will vary between the country in which the software was created and the country in which the user is located. For matters that are country-specific, e.g. the calculation of wages and salaries, foreign providers should be carefully scrutinised. Companies must check whether specific regulations should be agreed in their personnel software. It is beneficial if German legislation flows into the software used, e.g. the GDPR regulations.
Conclusion
Following a short implementation period, HR software simplifies the life of HR staff, as many standard processes can be automated, saving time for investment in such areas as recruiting or talent management. This contemporary digital version reaches out to young people in particular and attracts them to the company more easily. The choice to use HR software is not an issue of size or sector. It is nevertheless beneficial to use domestically produced software, as only in this case are the specific regulations that apply for Germany taken into account.