What is occupational health and safety management?
Occupational health and safety management is the systematic and target-orientated control of all relevant company processes, with the aim of promoting and retaining health, performance and success for the organization and all of its employees.
The concept is therefore is to try and achieve one of the most frequently targeted win-win situations. Healthy and motivated employees are more productive and thus perform to a higher level. This simple equation relating to occupational health and safety management is at first glance interesting and engaging for the majority of companies. In addition, some countries such as Germany are already calling for concrete measures such as the assessment of potential hazards and psychological stress.
Beside a fundamental knowledge of the basics, occupational health and safety management objectives and measures as well as the supporting tools are essential foundations for a successful implementation.
Thereby a central role in most organizations lies with the human resources department. Besides knowledge of the rationale, objectives and measures of the organization's occupational health and safety management, an essential foundation for the successful implementation by HR managers are the tools that support these processes.
How can HR Software support OHSM?
Good software solutions for human resource management can lead to a significant reduction in workload for those involved in the process and implementation of occupational health and safety management. This is mostly due to large amounts of key data stored in the system, which assists in streamlining the conception of company processes and procedures.
Via self-service portals, HR Software additionally provides opportunities to carry out employee surveys, to communicate tips and measures as well as supporting the entire HR development process, including the documentation of relevant employee training etc.
Roughly sketched, occupational health and safety management should be a continuously repeating cycle of inventory, goal-setting and the implementation of concrete measures. In each of these three phases a modern software solution such as rexx HR can bring clear benefits to a company.
The inventory is divided essentially into two main areas: the first concerns the evaluation of the relevant performance indicators of the OHSM (see below), and secondly, the process of employee surveys. The data warehouse, integrated into the human resources software is the ideal tool for individually (and if required per company department) evaluating health statistics, age structure, fluctuations and much more. Survey modules simplify the creation of questionnaires, the filling out by staff via the self-service function as well as the comprehensive (and if required, anonymous) evaluation.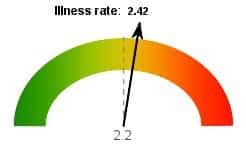 As part of the definition and monitoring of set targets, limit values for various key indicators can for example represent a practical tool. "Speedometer" charts (see graphic)  in the system display at first glance which goals have already been achieved as well as goals where the green zone has not yet been reached.
And in the third important phase, the implementation of concrete measures, suitable HR software can also be of great value. Just think of the organization and handling of staff training, the relevant development of management or the integration of OHSM-related issues in employee appraisals. For all of these points the software can considerably assist in the areas of planning, implementation and documentation. But also specifically an employee portal – or even perhaps an Enterprise Social Network – is an ideal tool for communicating information about occupational health and safety or to distribute tips for healthy work practices.
Which Key Indicators play a role?
Here are some key indicators that are particularly relevant in practice for OHSM and which should also be utilized in a comprehensive HR software:
Sick leave (partly with details to the cause: e.g. accident, burnout)
Fluctuation (individually per manager)
Overtime in hours
(per employee per year)
Age structure
Productivity / efficiency
Number OHSM-relevant training days
Satisfaction (with the supervisor, working conditions)
Number of terminations with relevant reasons (e.g. bullying)
Number of employees who recommend their employer