It is now possible to use two-factor authentication for the rexx Suite. This means that the identity of a user is proven by combining two different and, in particular, independent components (factors) – in the case of the rexx Suite, these are the individual user password in combination with a code that is sent to a stored smartphone via an app.
This step further increases security against unauthorised access. A login into the system is only successful if both specified factors are used together and are correct. If a component is missing or used incorrectly, the access authorisation cannot be determined beyond doubt and access is denied.
We have made it particularly easy for our customers to administer and activate two-factor authentication. Likewise, customers can decide at the company level whether two-factor authentication is mandatory or optional for all employees.
Use 2-factor authentication
These steps are necessary for you or your staff to successfully log in with 2-factor authentication:
Call up your rexx as usual and log in with your e-mail address and password.

Open the "Google Authenticator" or "FreeOTP" app on your mobile phone.
You receive a token generated in the Google Authenticator app (left) or FreeOPT (right)

Enter this in the mask in your rexx.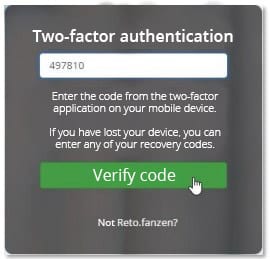 Based on these two authentication factors, the usual use of your rexx application is now possible.
We have aroused your interest? Contact your rexx systems representative for more information on two-factor authentication and a quote.
This could also interest you: