Do you already use tools such as MS Teams, GoToWebinar, Skype, Google Hangouts, Webex, Facetime, Zoom, etc.? Especially following the experience with home office, online work or remote work, the topic is becoming more and more important – communication is alpha and omega! We will show you how easy it is to find the best solution for you: The rexx Suite has not only discovered video chat but has now also integrated it with impressive features.
We have already written about agile personnel management as the new normal. The portal chat feature in Enterprise Social Networks promotes more transparency and encourages quick and easy communication between employees and management. This makes it very easy to make quick arrangements, even if you are not in the office,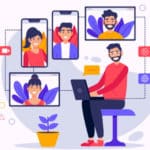 to discuss matters you would normally talk over in person. It also makes it possible to send documents securely and in compliance with the GDPR. Interact with individual colleagues or several colleagues in a group.
The chat has now been expanded, because video chat programs offer a wide range of options and have therefore been popular for quite some time. Video chat facilitates good communication. It was important to combine the advantages of other video chat applications and to integrate them into the rexx Suite.
What does rexx offer in terms of video chat?
rexx offers all the familiar functions and features. Video chat programs offer a wide range of options and so they have been popular for quite some time. Now rexx has come up with extensions to it, which can be used to promote good communications. The focus was specifically on combining the features of other video chat applications and integrating them into the rexx Suite.
First we look at security and data protection: The data can only be transferred using a German data centre or, if you wish, your own server. In this way, we can ensure data integrity and transmission of data that has been properly encrypted. The code is checked and you or your in-house IT can view it thanks to open source technology. In addition, there is no exchange of, for example, user data, with the provider of the video chat, since from the perspective of your employees everything basically runs within one system and data cannot leak out.
What features are available?
Whether screen sharing, rooms that can be repeatedly used for ad-hoc meetings, switching between audio and video, separate dial-in by telephone, recordings of meetings, YouTube broadcasts or specifically defined groups – all features are available for an unlimited number of participants.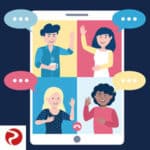 Keep in mind that this feature is absolutely essential not only for "internal" people. It does not matter whether you wish to communicate or share information in a company meeting with all people attending irrespective of location, with a defined team on a one-off or recurring basis, or just between two persons.
"External" people are also involved – not only as part of your recruitment process. In this way, live interviews can be conducted directly or scheduled via video chat. Send automated invitations using standard letters and placeholders and get started right away. Even if you have saved the meetings in the calendar, you receive a direct link to the video chat, including a meeting notification if desired.
Please contact the rexx systems team if you would like to receive further information about video chat or if you would like to test the feature.
You might also be interested in: