CH Media is one of the leading media companies in Switzerland, broadcasting and publishing across 45 brands within the golden triangle of Zurich, Bern and Basel. Around 1000 staff are employed across two dozen locations, keeping audiences informed and up-to-date through regional online news portals, e-papers and mobile applications; as well as the more traditional channels of TV and radio stations, weekly newspapers, specialist and special-edition magazines. A leading non-fiction publishing house in Switzerland and printing shops complete the range of products and services provided.
Professional applicant and personnel management in the media sector
As a responsible employer, CH Media provides modern working practices and attractive employment conditions. Since 2013 this has included a tailor-made applicant management solution (rexx Enterprise Recruitment) by rexx systems. The complete rexx suite, which seamlessly integrates recruitment, HR and talent management, was then introduced to facilitate the HR transformation, enabling optimal administration of the organization, as well as building the value creation centre.
An important requirement was the ability to transfer wage and salary data, as well as master data to ABACUS. rexx HR meets this requirement effectively and efficiently through a bi-directional interface with the payroll software. And through the self-service portal, employees can benefit by being able to maintain their master data themselves, as well as the HR administrators.
rexx systems' seamless transition between recruitment and HR offers huge benefits to an organisation. As in the case of CH Media, job vacancies can be advertised and published through the same interface with which they manage other talent management functions. Not only does this simplify the work processes, but also offers maximum transparency.
Personnel management with the rexx suite
The 'Staff Appraisals' module is used to control the entire process chain from setting targets to personnel talks. This makes it easy for everyone involved whether you're an employee, part of HR or senior management. Furthermore, various HR processes can be automated such as digital workflows for applicant management and onboarding, leading to an increase in efficiency of HR processes.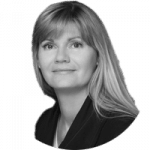 "With the rexx suite we've brought together all HR processes at CH Media, and are already seeing an increase in efficiency in HR processes through this all-in-one solution."
Veronika Novak – Head of Human Resources