rexx Skillmanagement.
Find the right employee with the skills you need for every project.
rexx Skill Management allows you to quickly and conveniently record, query, validate and evaluate employee skills.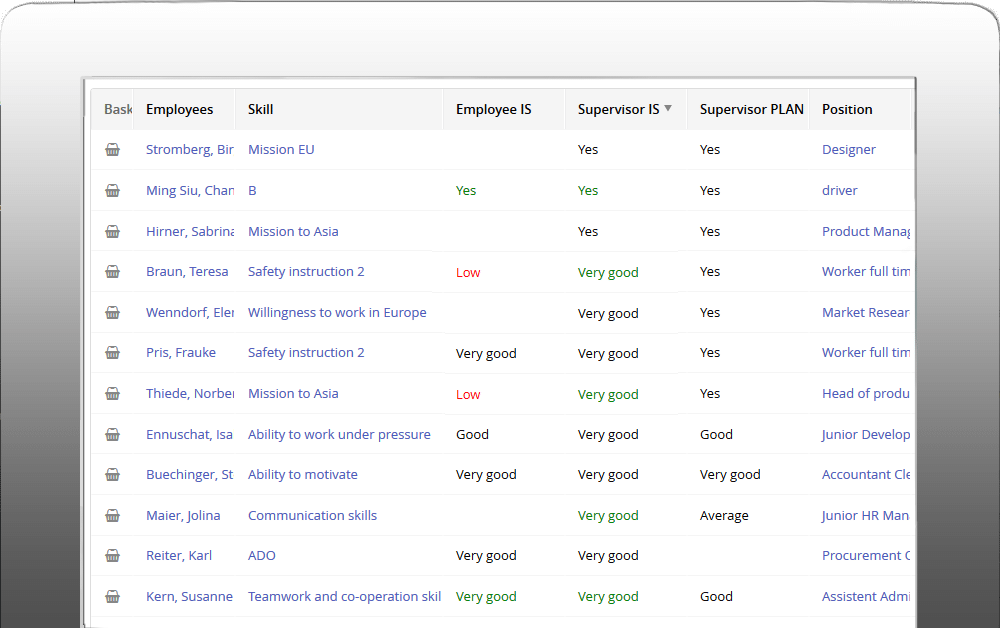 Supplement skills
Define and organise all the relevant skills of your employees in your company skill tree. Every skill can be supplemented with the complementary properties, e.g., qualification level, period of time, examination date or expiry date. Rexx Skills Management also supports several qualification skills at the same time – according to requirements.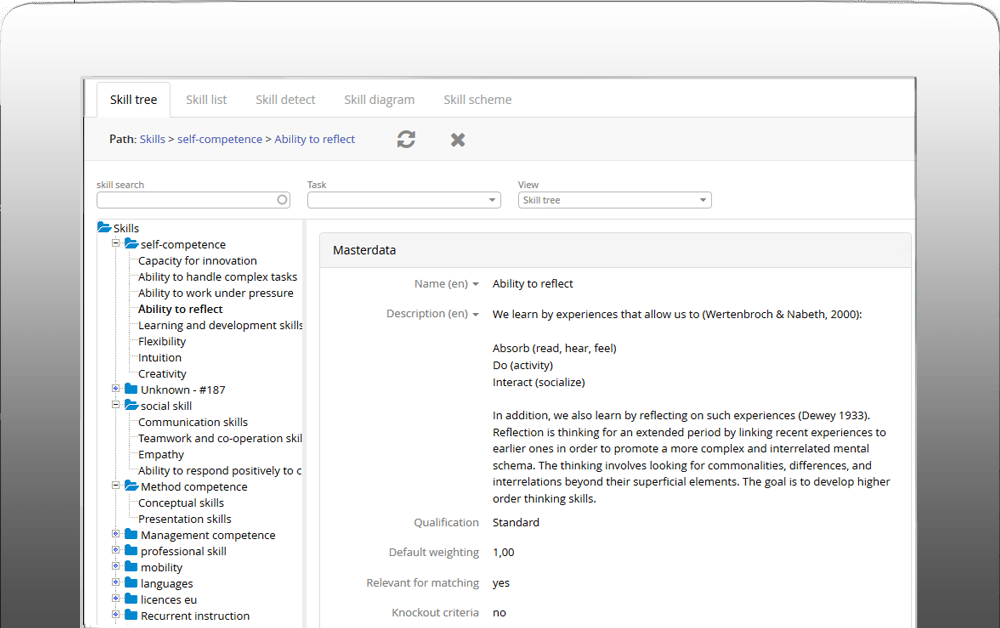 Diagrams
Get an overview of the strengths and weaknesses of your employees with rexx Skills Diagrams, including a comparison with the skills profile required for their position or a team's skills in the form of a group diagram.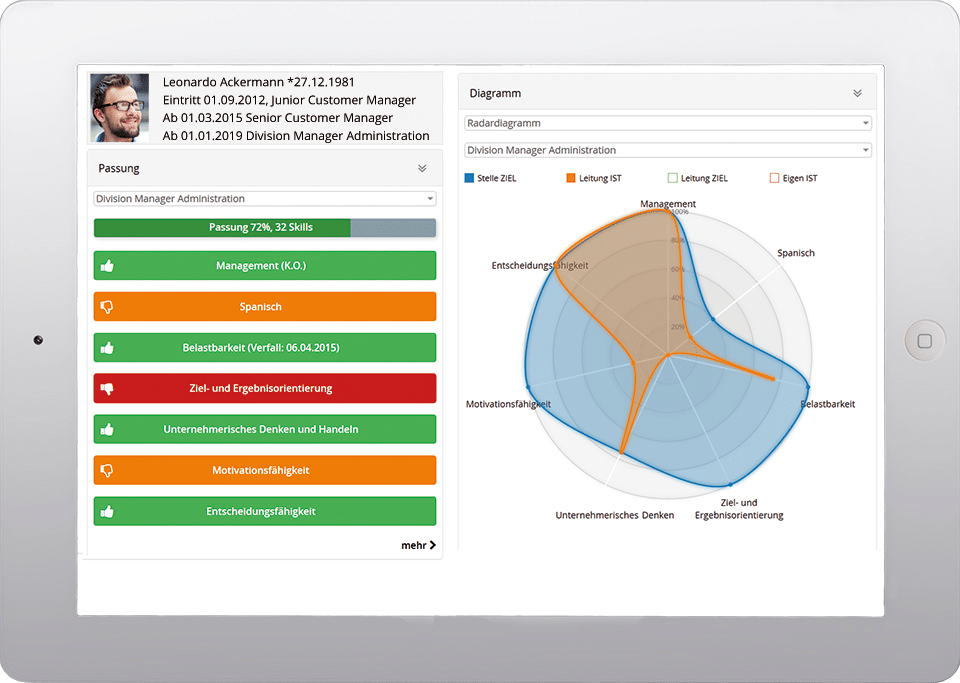 Each skill can be considered from all sides: How do employees rate themselves? How do employees wish to develop specific skills? How do their superiors rate these skills, and how do the superiors wish to develop their employees' skills? This can also be combined with the rexx 360° Feedback software.
Application examples:
Have a look at our skill management software.
rexx Skill Detect allows you to easily identify employee skills via an online survey – including self-assessment, validation by superiors or 360° feedback. Create any number of questionnaires quickly and easily from your individual skill tree using drag-and-drop. This provides you with continuously updated information without any manual data entry or data maintenance.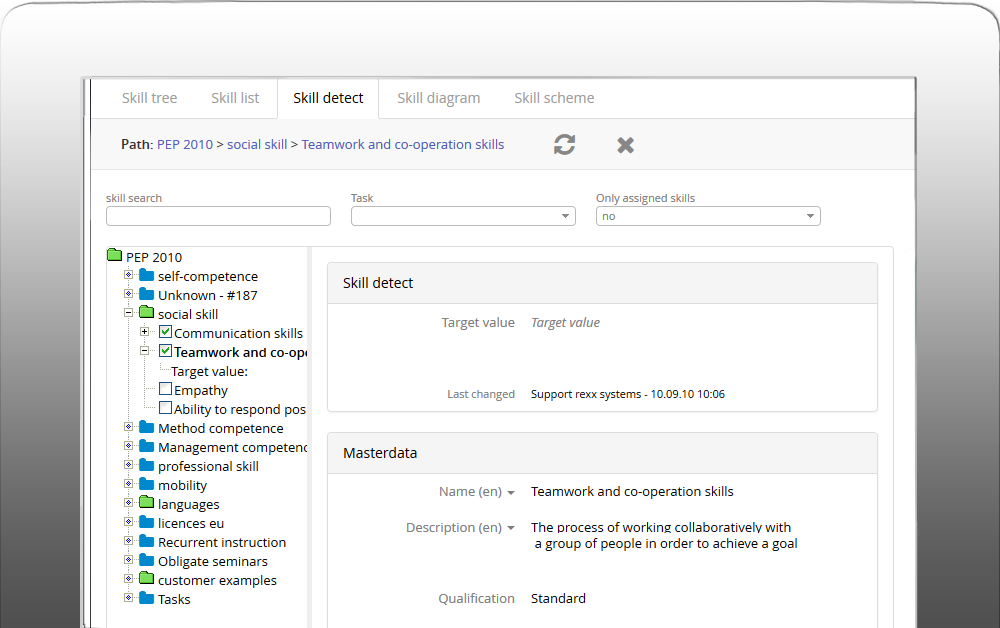 Profile of requirements
Define the desired job profile as a skills chart to see which employees best match the desired profile. Find the best candidate to fill a vacant position, identify interesting information for personnel development and perform efficient project staffing tasks with one mouse click. The powerful rexx search & list engine offers you a range of options to carry out efficient selection and flexible reporting through a highly intuitive interface.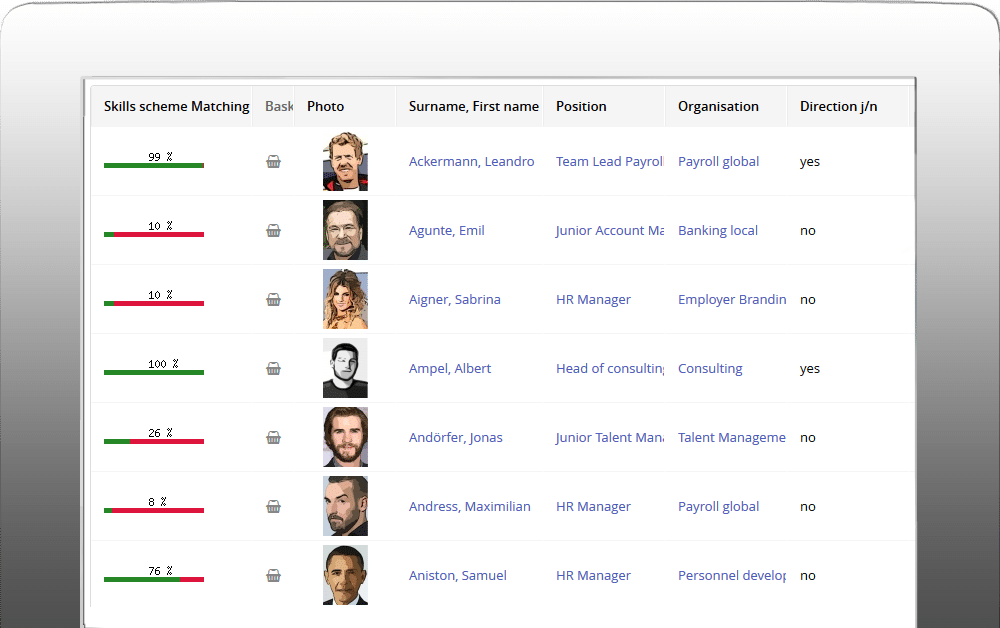 Skill Management can be operated as an individual module, or combined with other rexx Talent modules such as rexx Seminar Management, rexx Diagnostics, rexx Position Chart, rexx Portal, etc.
rexx 360° Feedback.
Surveying different groups of persons provides objective 360° Feedback on your employees and management staff, out of which you can derive concrete and effective learning opportunities.
rexx 360° Feedback makes it possible to illuminate the skills of an employee from all sides using: self-assessment, assessment by the managers and assessment by the team. This all-round feedback can be conveniently gathered by online questionnaires, which each employee has access to via email.
Team evaluation
Team evaluation makes it possible for the different team members to evaluate each other. This provides a group point of view of the overall capability of the team. Team evaluation is a valuable tool to improve the performance of a team and to strengthen the team-building process. By incorporating manager assessments and self-assessments, team evaluation can be expanded into 360-degree feedback.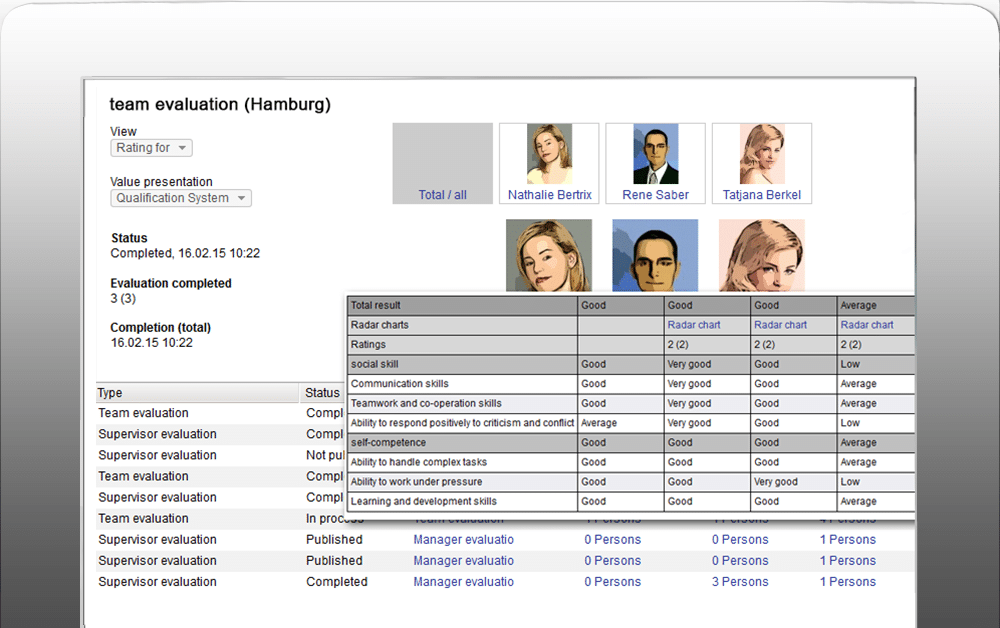 Evaluation of management
The evaluation and the development of management staff is a very important factor in company success. The evaluation of managers consists of the employees evaluating the management skills of their superiors. This can be carried out anonymously, partially anonymously or in a completely open manner. The partially anonymous method does not allow managers to look at individual evaluations made by their employees but rather only the overall results of all evaluations. In this case, the only people to have access to the individual results are HR specialists in personnel development or superiors of the manager.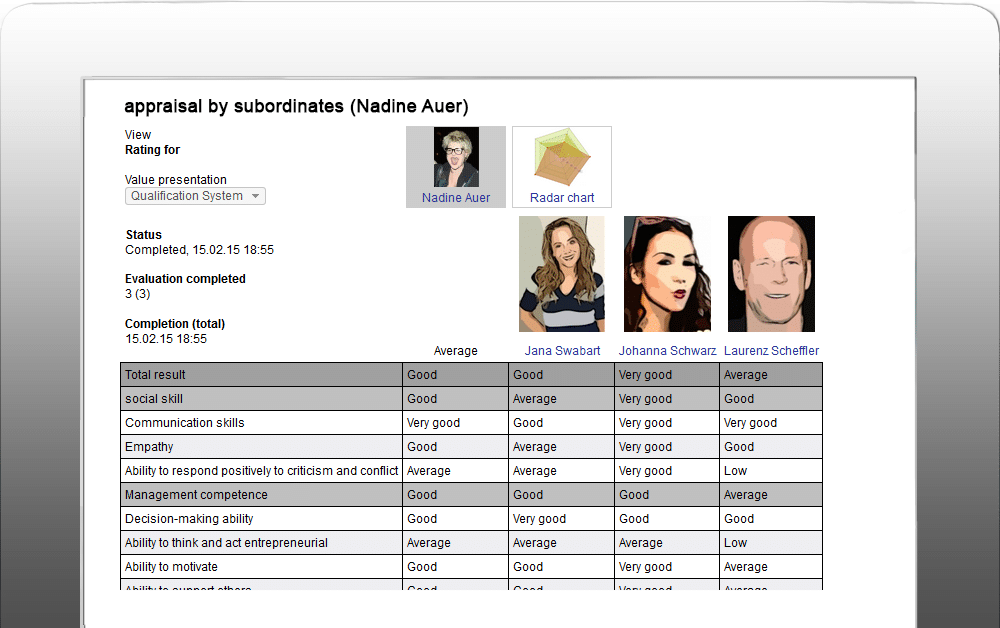 It is generally very complicated to assess diverse evaluations such as these when carrying out a 360° survey. However, with rexx 360° Feedback, it can be carried out at the press of a button. The data will then be presented to you in clearly laid-out tables and charts. The recipient of the feedback is provided with a multidimensional perspective of their own performance. Comparing self-assessment with external assessment serves as the foundation for the continuing development of the employee.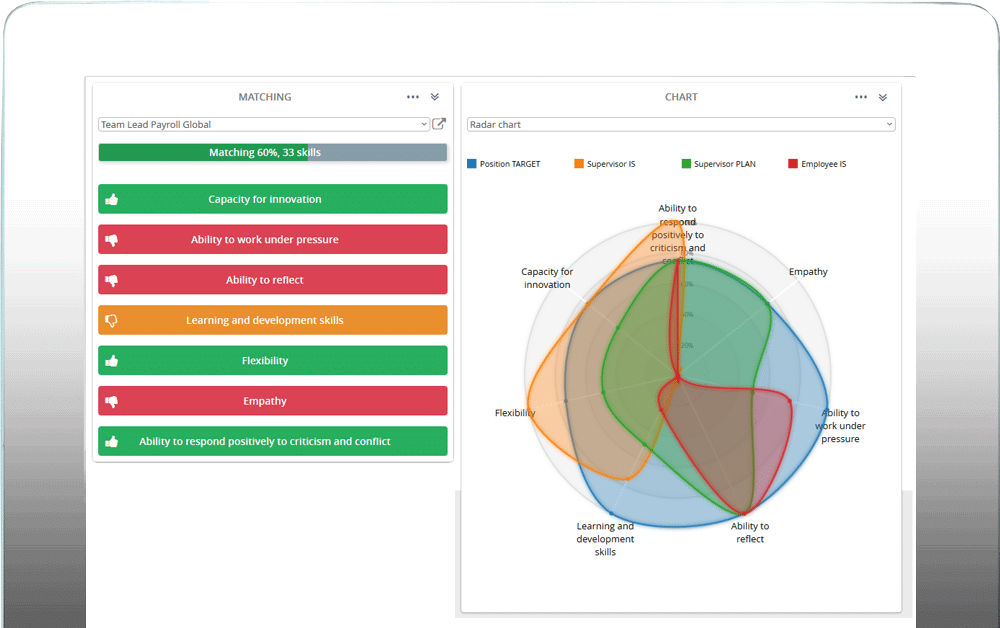 rexx Succession Planning.
Strategic succession planning provides you with an up-to-date overview of the talent that may potentially come into question to efficiently fill key positions.
Analysis and planning
An intuitive interface allows you to identify key areas, that is, positions that are important to the organisation, for which a swift reappointment from within the existing ranks of a company needs to be ensured. To do so, our software analyses information regarding increased resignation risk such as the end of an appointment due to departure or retirement, or erroneous appointments. Armed with this information, you can intervene early enough in planning the career of suitable talent and preparing them for positions that become free.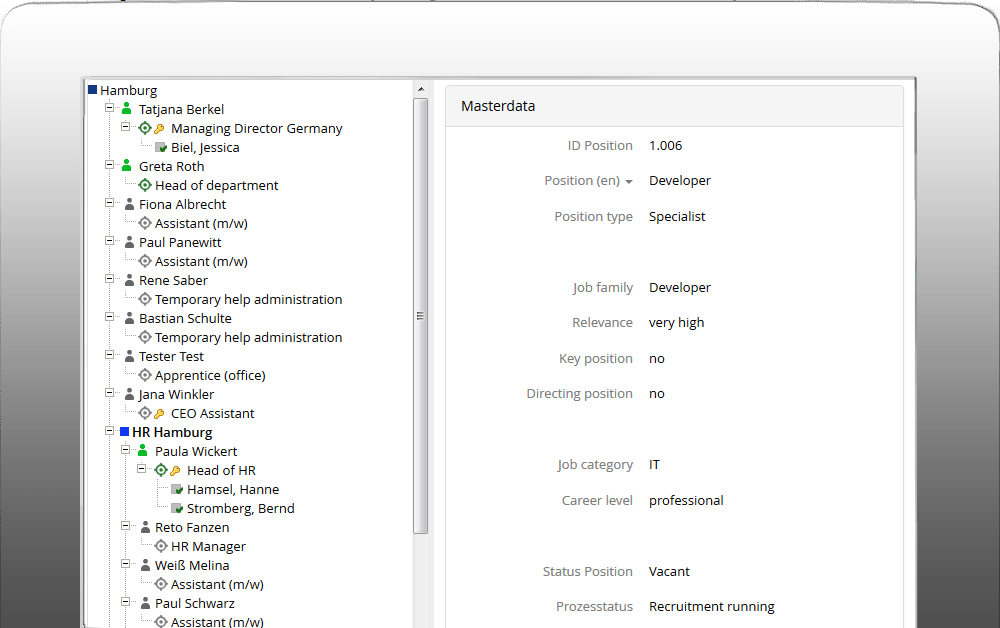 The extensive tools in rexx HR Talent Management, such as Management by Objectives, rexx Employee Appraisals or rexx Skills Management allow you to automatically identify these employees much more efficiently.
Potential matrix
In addition to these classic methods, rexx Talent Management offers the optional use of the so-called "performance potential matrix". This is an effective and easy-to-use-instrument to allow managers to categorise talent in quadrants of the matrix, adjust them in any way and integrate them into the process.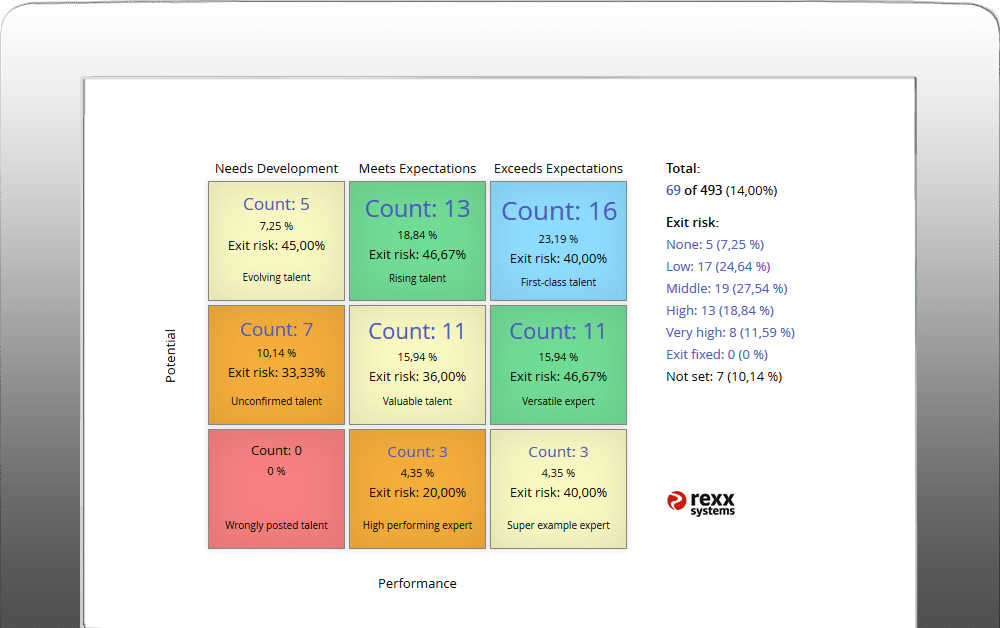 Talent pools
Increase the loyalty of your talent by making concrete and formal suggestions for possible career paths and options for development. rexx Succession Planning allows you to create flexible talent pools for the diverse career paths of your talent and support them in planning their career. In the process, you determine yourself which personnel development measures a potential talent needs to go through to achieve the respective step or career stage: training measures, special interviews or assessments, project tasks, development of required skills or achieving a specific objective.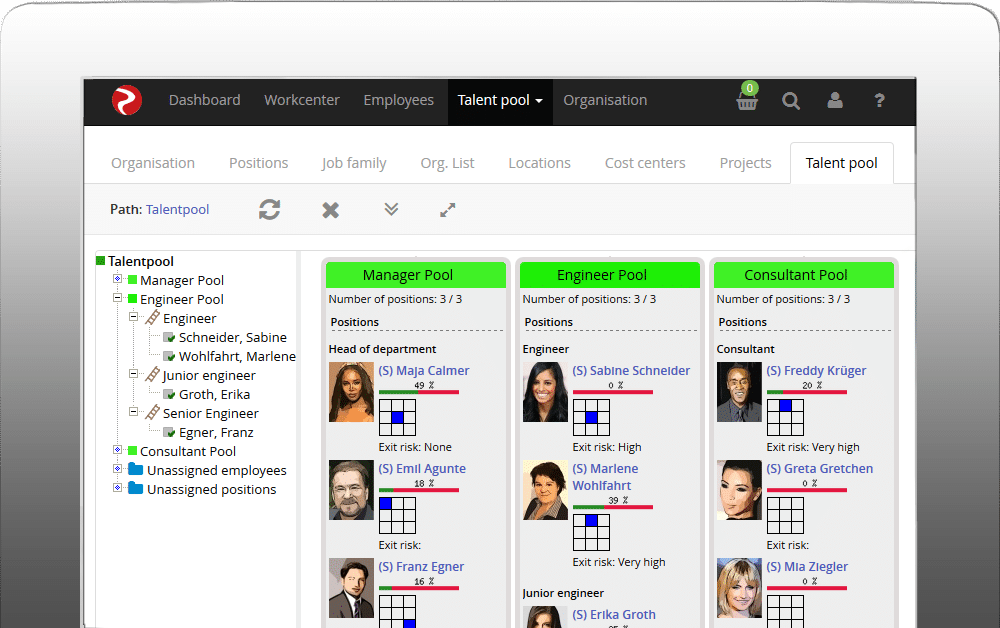 Workflow engine
The rexx workflow engine allows you to freely define processes relevant to succession planning. Specify when a talent reaches which stage or which person and parties are involved in which steps of the planning process and how they should be involved in succession planning. Automated reminders of the individual process steps are also optional.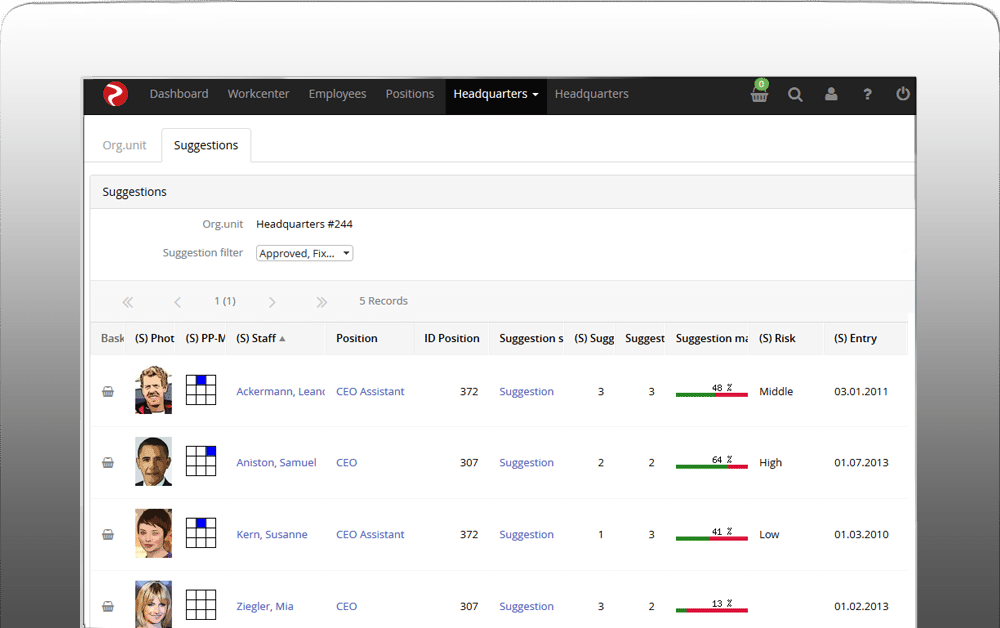 Organigram management
Succession and career planning is wholly integrated with rexx Organigram Management. You don't just receive lists, but intuitive organigrams, which can be opened to show current, future or previous planning statuses. The so-called "domino simulation" quickly calculates how the organigram, based on succession planning, changes when a particular person is left out. The results of the analysis are presented clearly in a chart.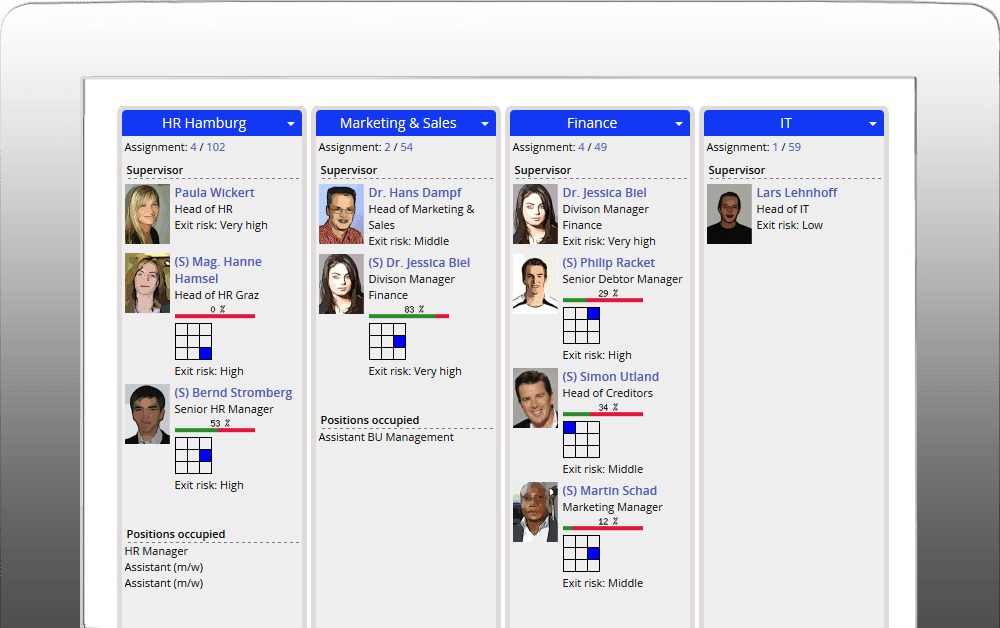 rexx Employee Appraisals.
For employers, employee appraisals offer a direct point of contact to their staff and are a valuable tool for personnel development – the basis for successful implementation of company strategies.
rexx Employee Appraisals support you along the entire process chain of staff appraisals and automatically takes on a large portion of the administrative effort. The software offers you a continuously updated overview of upcoming appointments, agreements on objectives or reviews. The system automatically reminds the relevant managers and employees of the event.

The questionnaires on self-assessment and external assessment contained in rexx Employee Appraisals are the basis of efficient employee appraisals. The differences between these assessments can be evaluated by means of a chart and offer an invaluable means to hold a discussion on personal perspectives. Moreover, a supervisor can call up a chart displaying the development since a prior employee appraisal meeting or over a longer period of time. This includes factors such as the training sessions that have been attended, achievement of goals and salary history.

After the conclusion of the staff appraisal, the software provides you with support in quickly and easily documenting the results – agreements on objectives or planned advanced training. In addition to the standard content, this documentation offers you the possibility of customisation – you can record agreed objectives, planned seminars or information on the employee's qualifications, according to requirements.

The protocol is also stored in the employee's digital file and is made available to the employee in the employee area – or self-service portal. The data automatically flows into other software modules and can then be called up centrally for follow-up work – whether for performance management, in the training module or in the area of skills and competence. This integration makes it possible to gain an overview of the set objectives from many different perspectives. These can be monitored and adjusted as necessary.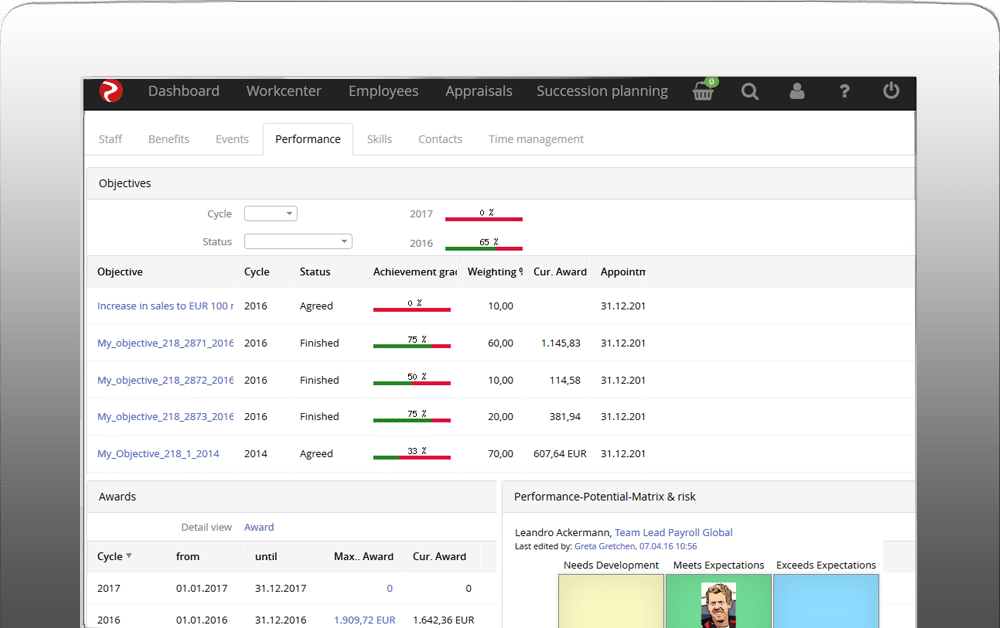 rexx E-learning.
Future and already present day learning is digital, saving time, money and above all, bringing efficiency.
Continued education and training is essential to many companies in order to keep or to build their competitive edge. However, attending seminars is not always appropriate, for example when staff need to be trained across several locations or departments, or when it is simply a matter of minimizing the costs of further education and training. E-learning offers the greatest possible flexibility. Read more about rexx E-Learning